LEADERSHIP TEAM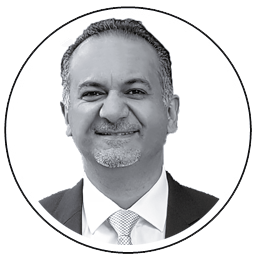 TAMER BAZZARI, CA, CFA

CHIEF EXECUTIVE OFFICER


With 29 years of experience in Financial Services, Insurance, Technology, Real Estate, Capital Markets, Corporate Governance, Corporate Finance, and Private Equity with a focus on the MENA region, Mr. Bazzari has concluded over 50 transactions in over 20 industries. Mr. Bazzari obtained his Bachelor's degree in Commerce from McGill University and his post-graduate degree in Accounting from Concordia University in Canada. He is a Canadian Chartered Accountant (CA) and a US Chartered Financial Analyst (CFA) Charterholder.


PREVIOUS POSITIONS:

▪ Board Member, Emirates NBD Capital Saudi Arabia between 2011 and 2019.
▪ Until 2010, Group CEO of Rasmala Investment Bank (with USD 1.3 billion in assets under management and 230 employees across 6 officesin MENA).
▪ Senior Advisor to the Dubai Financial Market.
▪ Audit and financialservices Consultant for Ernst & Young in Dubai and Deloitte in Canada and Cayman Islands.

CURRENT NON-EXECUTIVE ROLES:

▪ Board Member and Chairman of the Audit Committee, the Palestine Investment Fund (sovereign wealth fund).
▪ Board Member, Volt Lines, a mobility platform using smart and highly optimized technology to move thousands of employees from local and international corporations through over 400 buses across major cities in Turkey such as Istanbul and Ankara.
▪ Member of Investment Committee, Middle East Venture Partners(largest MENA VC).
▪ Board Member and Co-Founder, Dubai Angel Investors, with over 120 leading MENA professionals as shareholders and over 29 portfolio companies, enabling regional entrepreneurs with capital and mentorship.
▪ Board Member, Operation Cousins, operating F&B outletsin New York.
▪ Founder, CFA Emirates, a professionalsociety with over 1,000 members.